About us
The organizer of the EEC Startup Challenge is the PTWP Group from Katowice.
The PTWP SA Group, which has been present in the market for 26 years, is a recognised organiser of events, among which the most prominent one is the European Economic Congress. The PTWP SA Group is also the publisher of a number of specialist portals, including: WNP.pl, PortalSamorzadowy.pl, PropertyNews.pl, PortalSpozywczy.pl and RynekZdrowia.pl. An experienced team and media coverage stand behind the success of each of the projects organized by the PTWP.
PTWP SA Group
International Congress Centre
Plac Sławika i Antalla 1
40-163 Katowice, Poland
telephone: + 48 32 209 13 03
www.eecpoland.eu
Contacts
For organisational matters and queries, please contact:
e-mail: eec@eecpoland.eu 
Commercial co-operation:
Rafał Sikora
e-mail: rafal.sikora@ptwp.pl 
Co-operation with the media:
Małgorzata Sklorz
e-mail: malgorzata.sklorz@ptwp.pl
Międzynarodowe Centrum Kongresowe
The International Congress Center is located in the heart of the city, next to the legendary Spodek Sport and Show Arena. ICC with the Silesian Museum and the seat of the Polish National Radio Symphony Orchestra co-create the "Culture Zone" - a new space of the city, which is used by tourists and residents of Katowice and the Silesian agglomeration.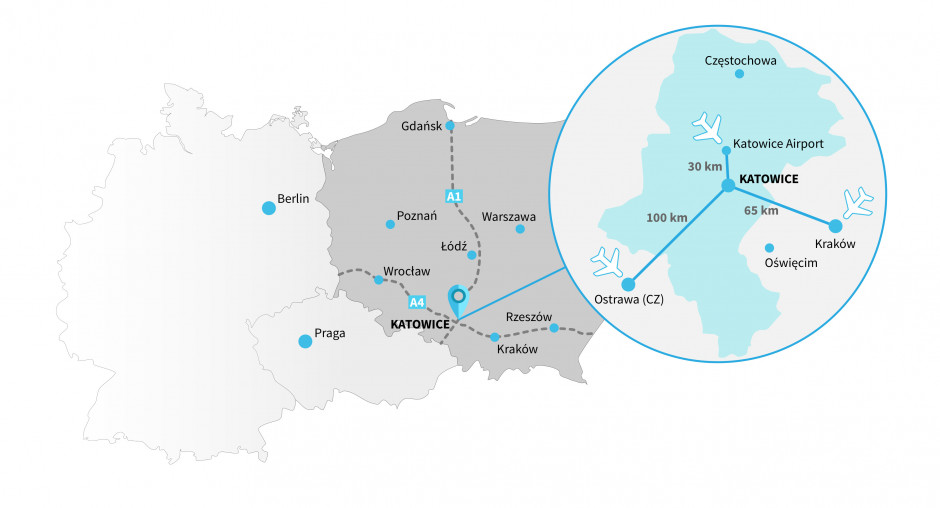 By car
The location of the ICC near highways A4 and A1 makes it easy to reach from many places within Poland and Europe. Numerous car parks in the vicinity allow convenient access to the facility.
By train
The International Conference Centre can be reached from the PKP train station:
In 15 minutes by foot (2.5 km)
By taxi from Plac Oddziałów Młodzieży Powstańczej or ul. Młyńska.
By tram from the Katowice Dworzec PKP stop. Take lines T2, T11, T13, T23, or T43 to the Katowice Rondo stop (8 min.)
By tram and bus
The bus and tram stops closest to the International Conference Centre are "Katowice Rondo", "Katowice Spodek", and "Katowice Uniwersytecka".